Al-Marayati said after the September 11, 2001 attacks, which killed almost 3,000 people and caused at least $10 billion in property and infrastructure damage, that Israel should be on the "suspect list". -Press TV
Breitbart.com, one of the many treasonous "American" outlets tasked with serving Israeli interests, is complicit in covering up the Zionist coup d'état of September 11th, 2001. When the counter-coup finally happens, you'd better believe that these guys are gonna get purged. -KB
Salam Al-Marayati
By Jordan Schachtel,
Breitbart.com
Iranian state-media outlet Press TV has come to the defense of Salam Al-Marayati, the President of the Muslim Public Affairs Council (MPAC), who attended this week's White House Countering Violent Extremism Summit and has a past rife with extremist remarks.
Al-Marayati's presence at the White House summit was first reported by
Breitbart News
and was shortly thereafter picked up by multiple domestic and international news outlets. Breitbart News documented his previous radical statements, such as calling the Iranian-proxy, Lebanon-based Hezbollah terror group a "legitimate resistance" movement, and suspecting Israel of carrying out the 9/11/01 attacks against America. Critics of Al-Marayati's MPAC believe the group is a staunch ally of the Muslim Brotherhood, which has been designated as a terrorist group in many countries.
Iran's Press TV took issue with recent comments made by U.S. Congressman Ryan Zinke (R-MT), a former Navy Seal who told
Fox News
that Al Marayati's presence at the event was a "slap in the face to Israel." Rep. Zinke added, "I'm speechless… Certainly, this is why our allies don't trust us and our enemies no longer fear us."
The Iranian state-media report defending Al-Marayati's statement
reads
:
Al-Marayati said after the September 11, 2001 attacks, which killed almost 3,000 people and caused at least $10 billion in property and infrastructure damage, that Israel should be on the "suspect list".

US officials assert that the attacks were carried out by al-Qaeda terrorists but many analysts say it was a false-flag operation and that Osama bin Laden was just a bogeyman for the US military-industrial complex.

They believe rogue elements within the US government orchestrated or at least encouraged the 9/11 attacks in order to boost the US economy and advance the Zionist agenda.
The piece continues:
In an interview with Press TV on Tuesday, American scholar Dr. Kevin Barrett said, the September 11, 2001 attacks were a Zionist "coup d'etat" to seize power in the country and launch a permanent war on Islam on behalf of Israel."

"This was really set-up by the Zionists who actually were the main force behind 9/11 and the Zionists wanted to make sure that 9/11 could be used to threaten Saudi Arabia and prevent it from leaving the US imperial orbit and also to threaten Pakistan and force Pakistan to acquiesce in the coming invasion of Afghanistan," Barrett said.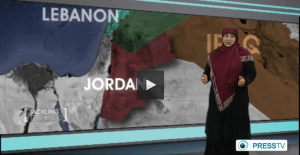 Press TV, Feb 20, 2015
The Iranian news outlet has a full-time staff
loaded
with proven anti-Semites, 9/11 truthers, radical Palestinian activists, and Muslim Brotherhood sympathizers. The Ayatollah's 24 hour english-language propaganda arm in Press TV is available on dozens of providers throughout Europe, the Middle East, Asia and Africa.